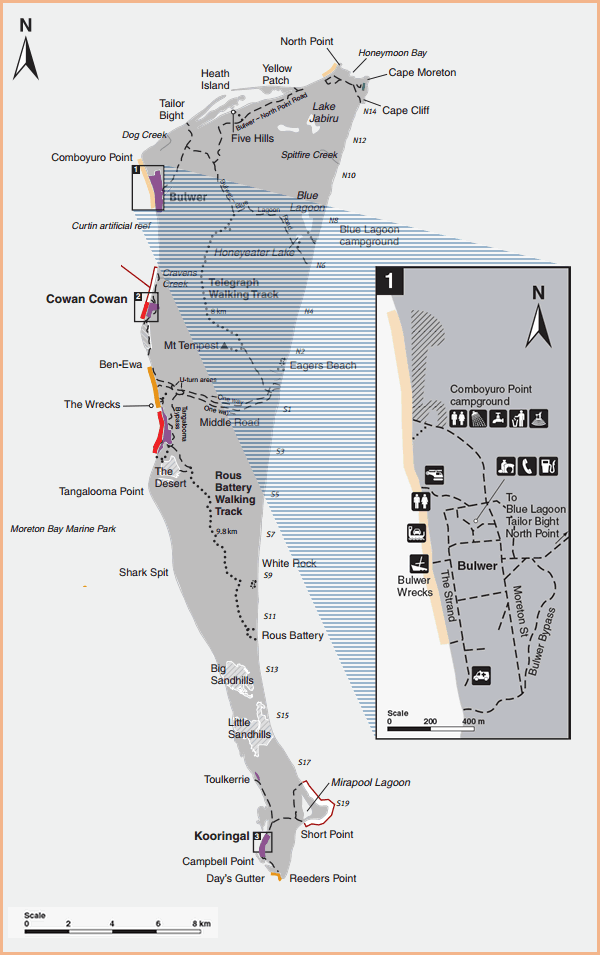 20 THINGS TO DO ON MORETON ISLAND
Moreton Island
Imagine; an island with low inhabitation, blue waters, sand dunes and endless natural scenery.
Where sun sand and surf creating a picture perfect paradise. Be treated with stunning sunsets while dolphins and whales go by.
Sounds too good to be true? It is all here, on Moreton Island. Whether you prefer to surf off the sand dunes or the waves. Go for a 4WD trip, a fish or a swim, walk along the beach or tackle a bush track. Moreton Island has something to please everyone. 40 kilometres northeast of Brisbane, Moreton Island is the third-largest sand island in the world. A 75min ferry ride from the port of Brisbane takes you to the perfect getaway.
Restricted to 4WD vehicle access only. Moreton Island consist 95% of sand and is home to the highest coastal sand dune in the world. Come and see what Mother Nature has in store for you.
Hit the sand tracks in your 4 WD
If you're not lazing about, hop in your 4WD to explore the island. Discover 420kms of unsealed bliss criss-crossing the island, whether on sand tracks or along beaches. For the ultimate, drive the full 23km length of Ocean Beach. You can explore freshwater creeks, swim in lagoons or toss in a line. Don't forget to pop in at the Gutter Bar in Kooringal
Explore a slice of war history
Moreton Island played its part as one of Australia's major coastal defence bases during both World Wars. At its peak 900 troops called the island home. You can discover what remains of this history in many concrete bunkers, shelters and gun batteries throughout the island. Check out the bunkers at Cowan Cowan or Rous Battery.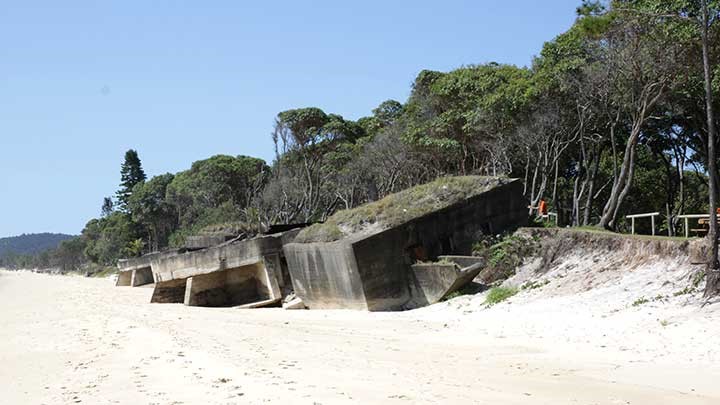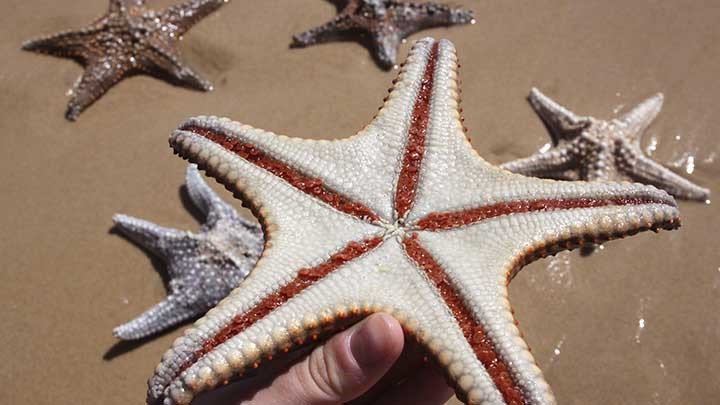 Surf's up
The eastern side of the island meets the full force of the Pacific Ocean. Strap a surfboard to your 4WD and head east to catch a wave off one of the beaches.
Honeymoon Bay
Between the rocky Cape Moreton and North Point (where the Champagne Pools are) lies Honeymoon Bay – a picturesque half-moon shaped 50m-wide beach.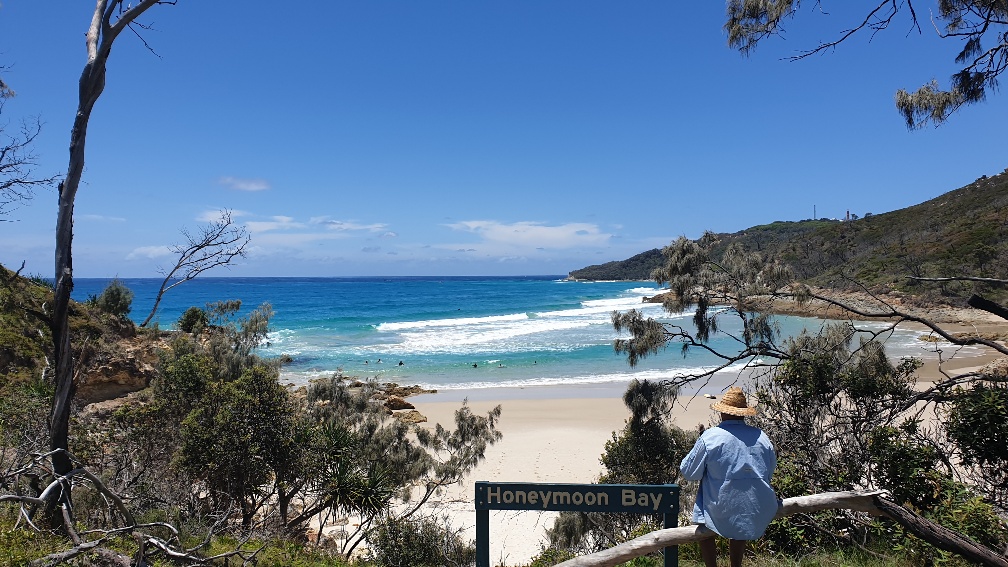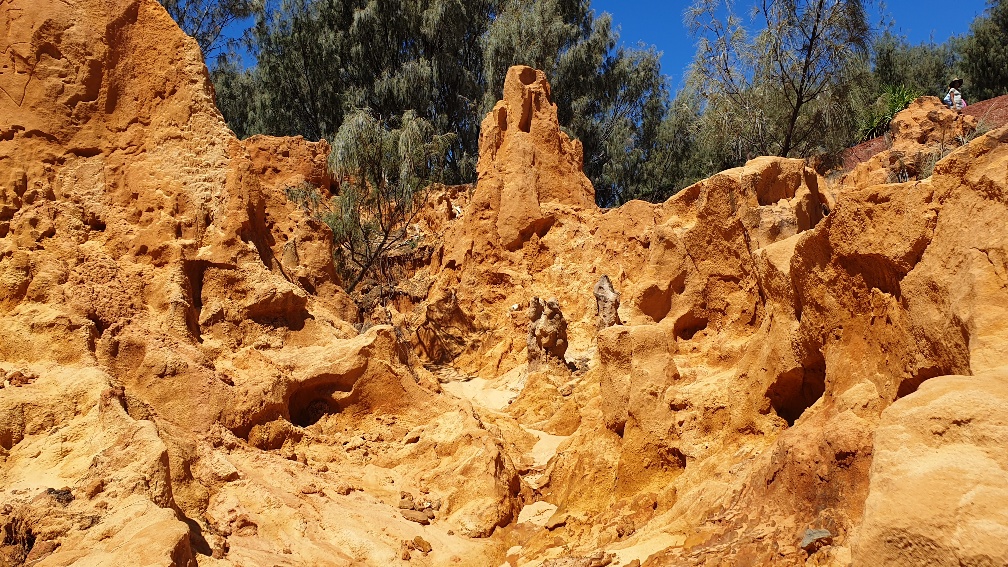 Check out Harper's Rock
At the base of Cape Moreton on the eastern side of the island is a fascinating cluster of red sand formations ready to be discovered. The landscape is like stepping onto the set of sci-fi movie as you climb through an area that must be seen to be believed.
Do the short climb to Five Hills Lookout
On the road to Cape Moreton, stop and check out this prime spot. It's an easy 1km return walk to Five Hills Lookout that gives you 360-degree views of Moreton Island.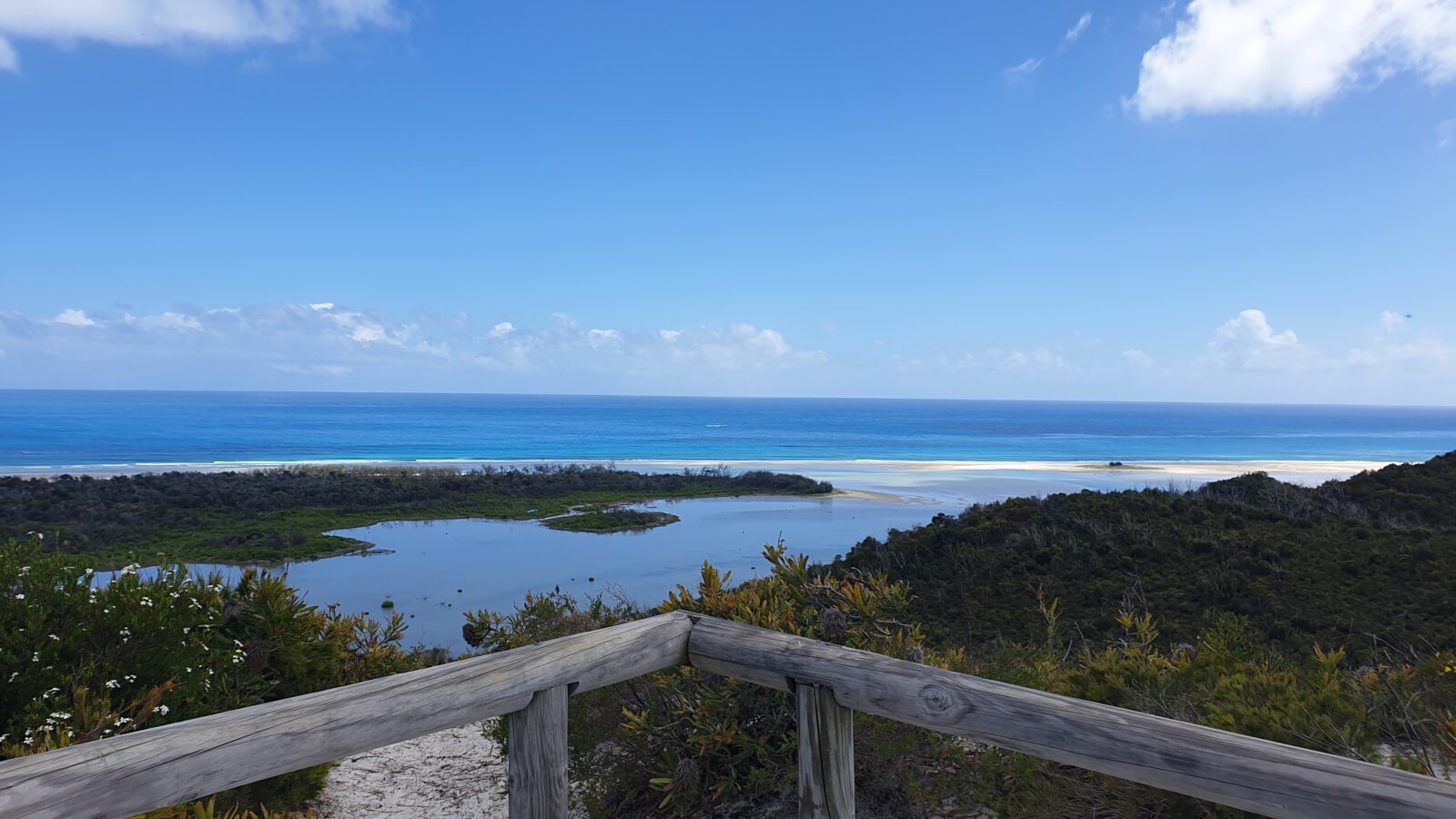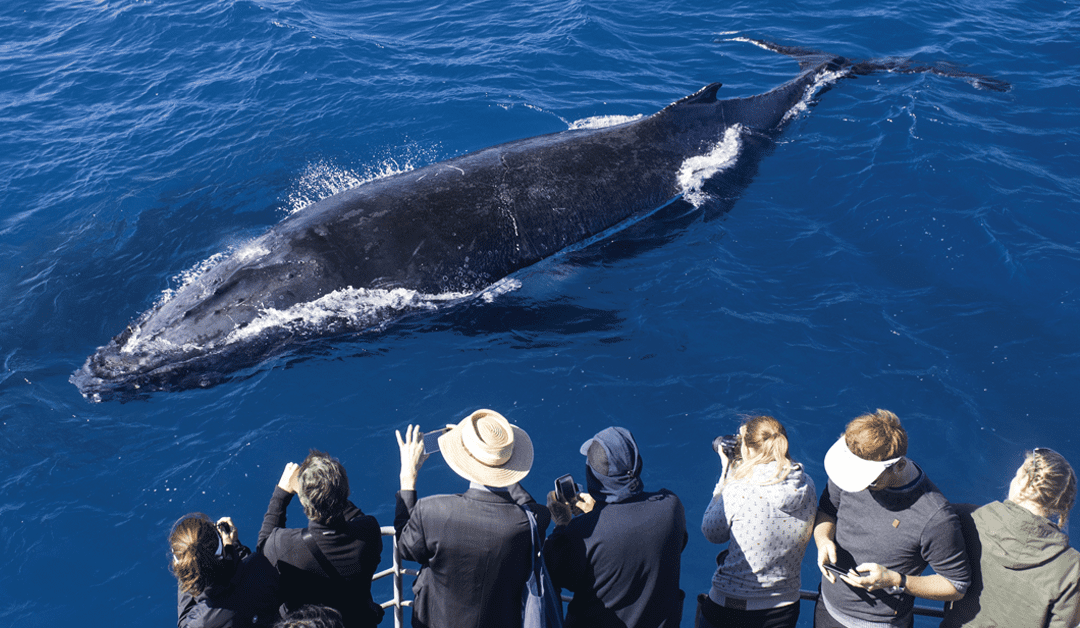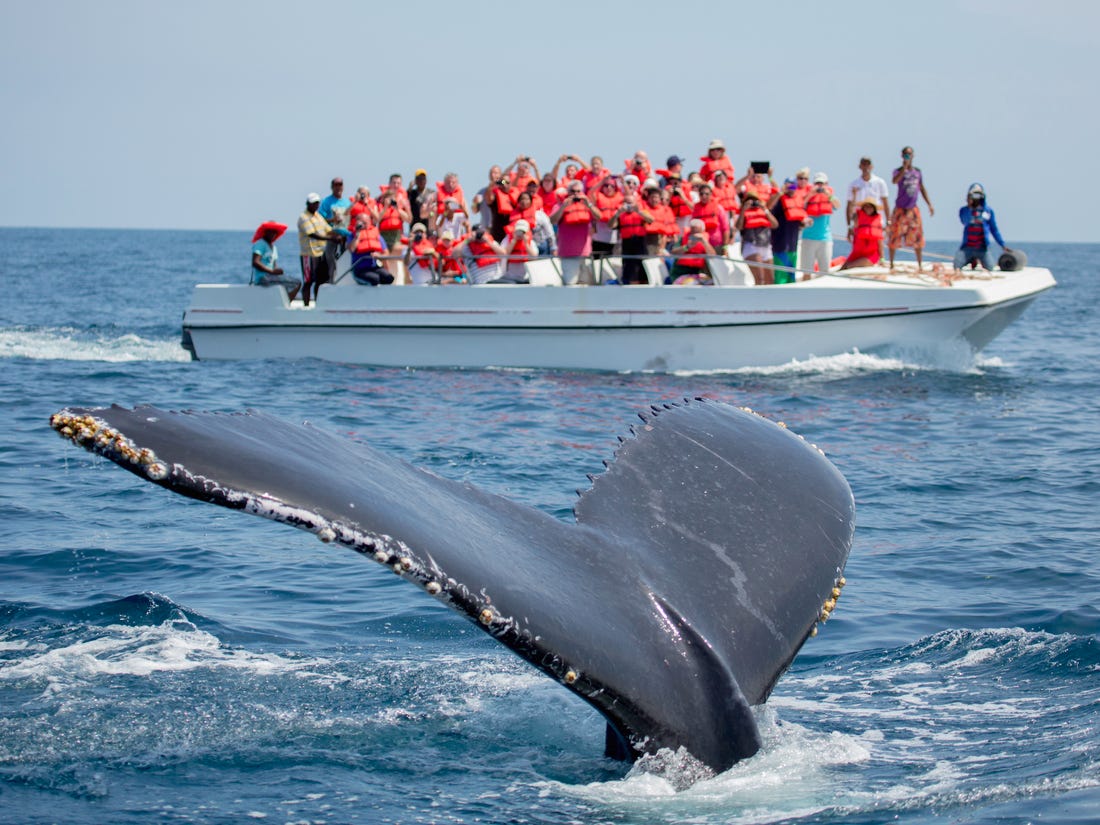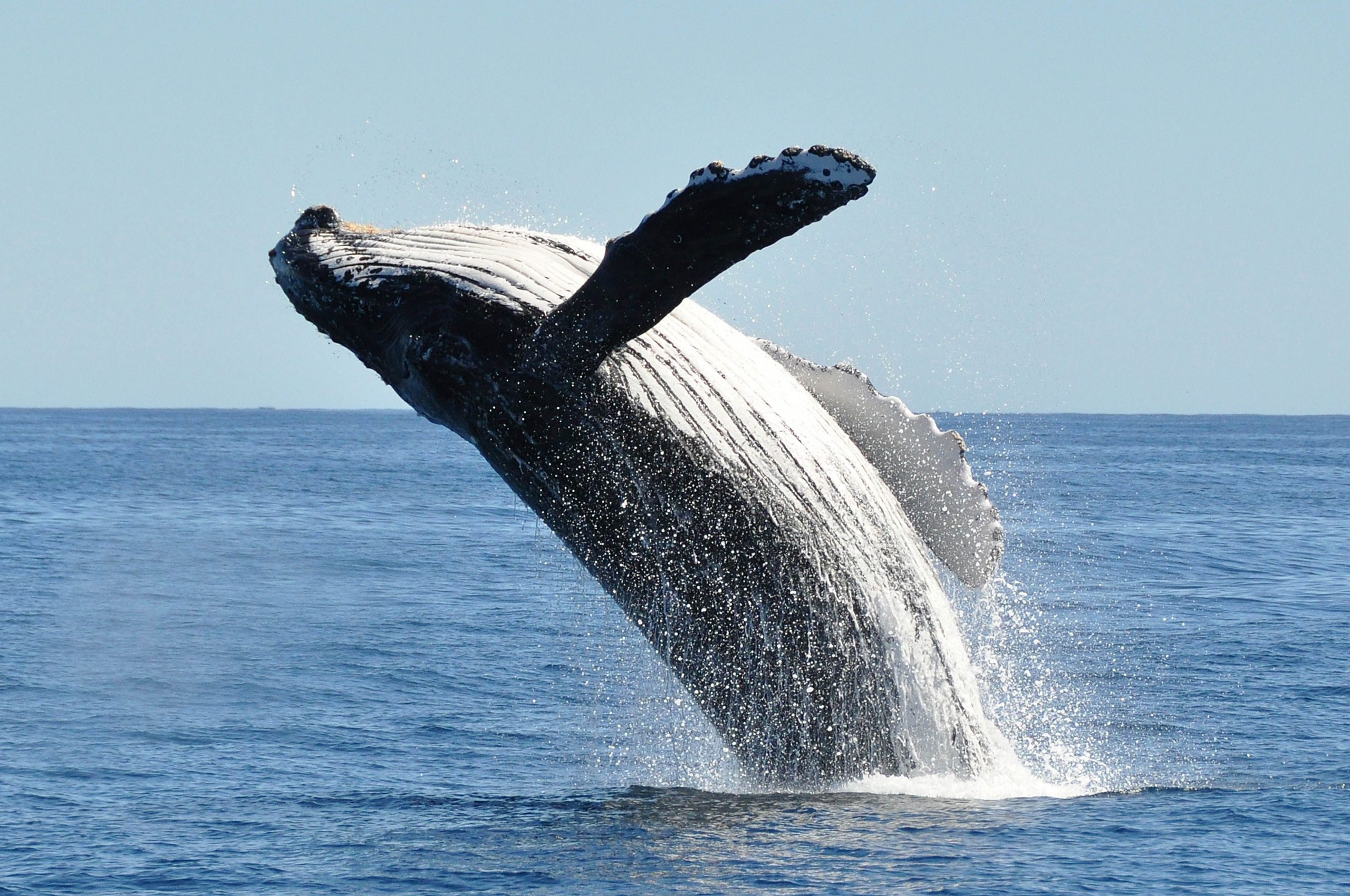 Whale-watching (June to November)
Every year, thousands of humpback whales migrate by Moreton Island. Cape Moreton is a great spot for whale watching. While whales can only be seen from June to November – dolphins, sharks and turtles can be spotted all year round.
DISCOVER THE CHARM OF MORTON ISLAND
Climb up Mt Tempest
Looking for a challenge. In case you have forgotten. All of Moreton is made of sand so the climb up its tallest mountain isn't easy. Once you reach the top of the 285m climb you'll be treated to breathtaking 360-degree views. Ranging from the Sunshine Coast to the Gold Coast that make it all worthwhile. The 2.5km walking track is around a two hour round trip, following a 35 min 4WD from Bulwer.
Blue Lagoon is a sand-bottomed lake in the middle of the island formed through the natural catchment of rainwater over thousands of years when the water table meets the ground surface. Infused with natural tea tree oils, the fresh water and white sand make it a great place to cool off.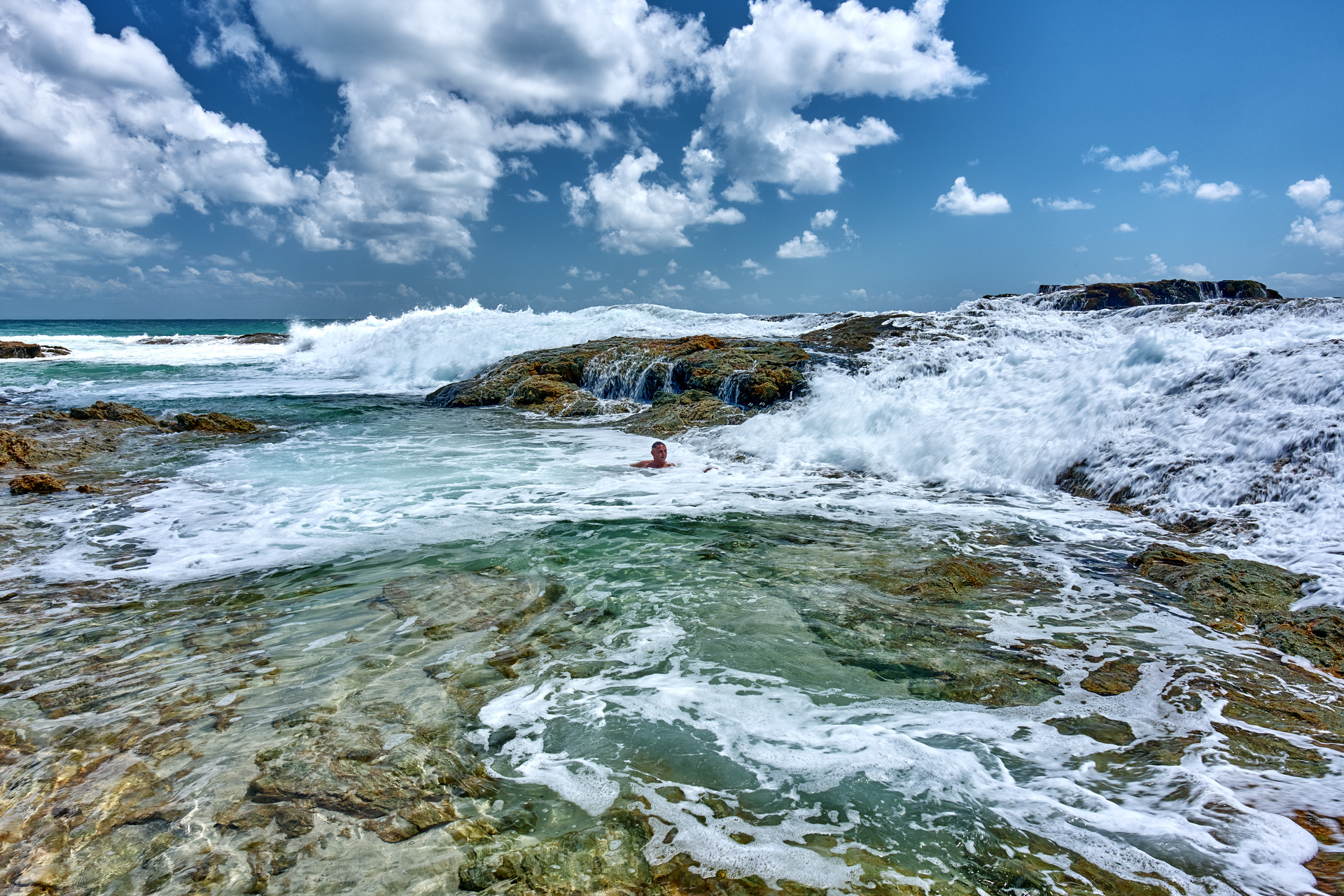 Wallow in the Champagne Pools
Near Cape Moreton on the north-east tip of the island, the Champagne Pools get their name from the sparkling effect created as ocean wave's crash over the volcanic rock break wall.
Walk the Rous Battery track
Discover interesting remnants of World War II scattered along the 9.8km Rous Battery track. The walk on the southern end of the island takes approximately 3.5 hours each way as you wind through scribbly gum forests.
Climb to the top of big sand dunes, wax up a wooden board and launch yourself off the edge – you can reach speeds of up to 60km/h. A great way to wear out the kids and asure yourself of a quiet night.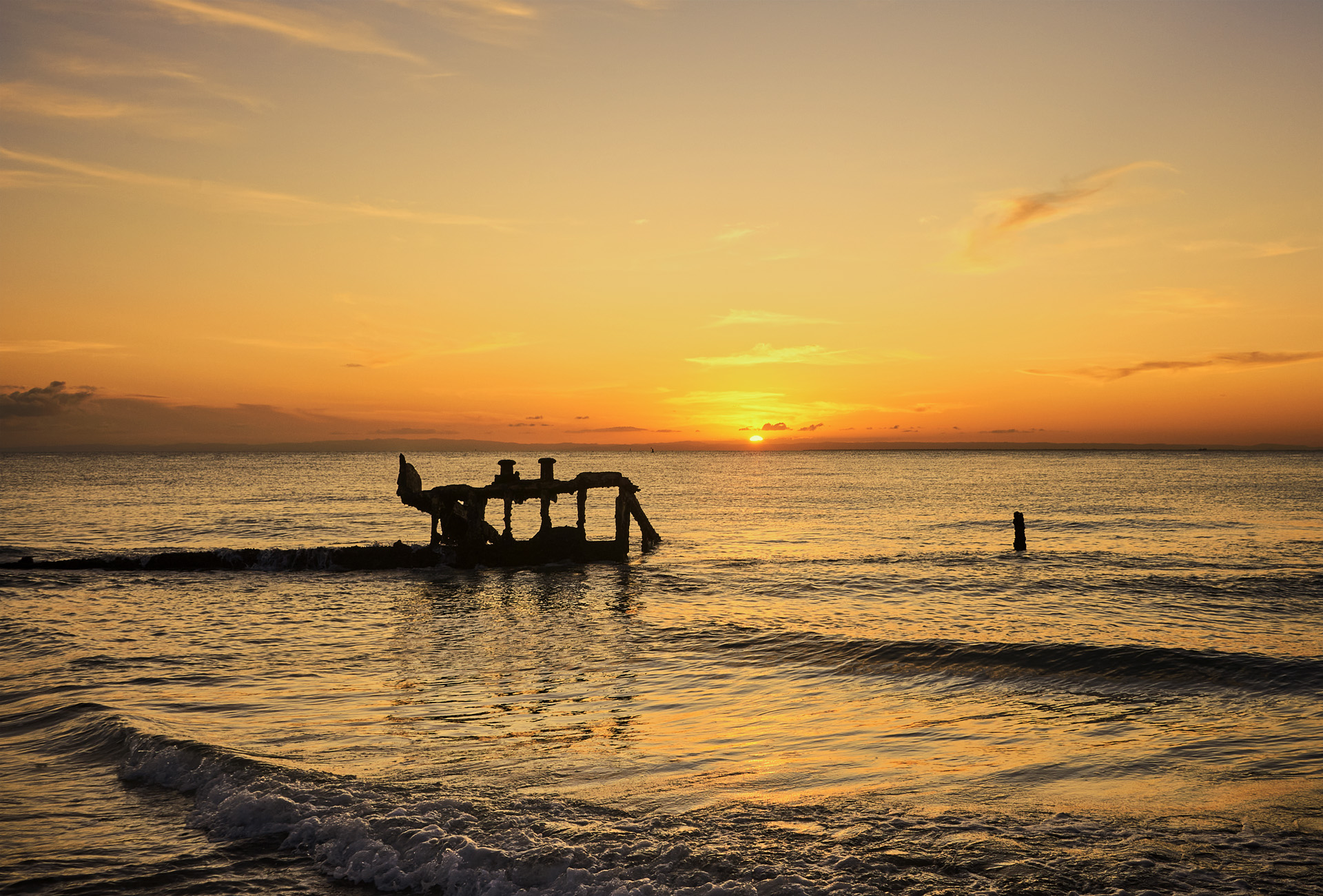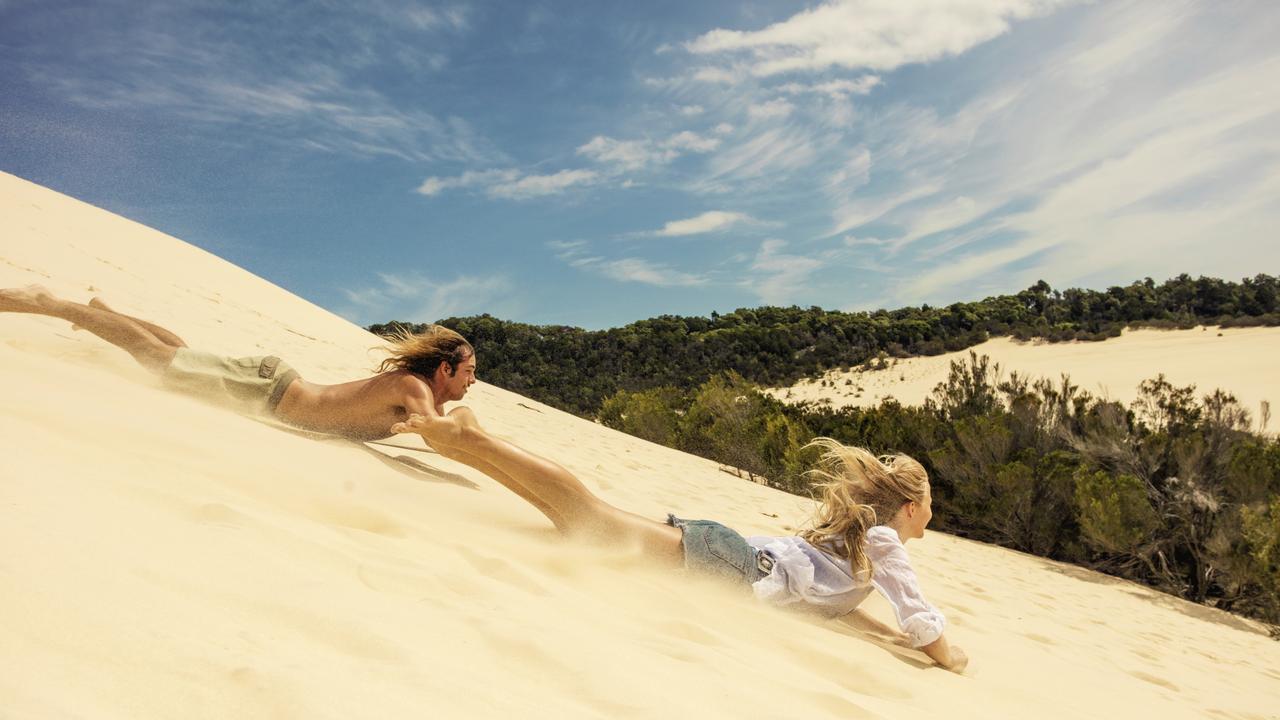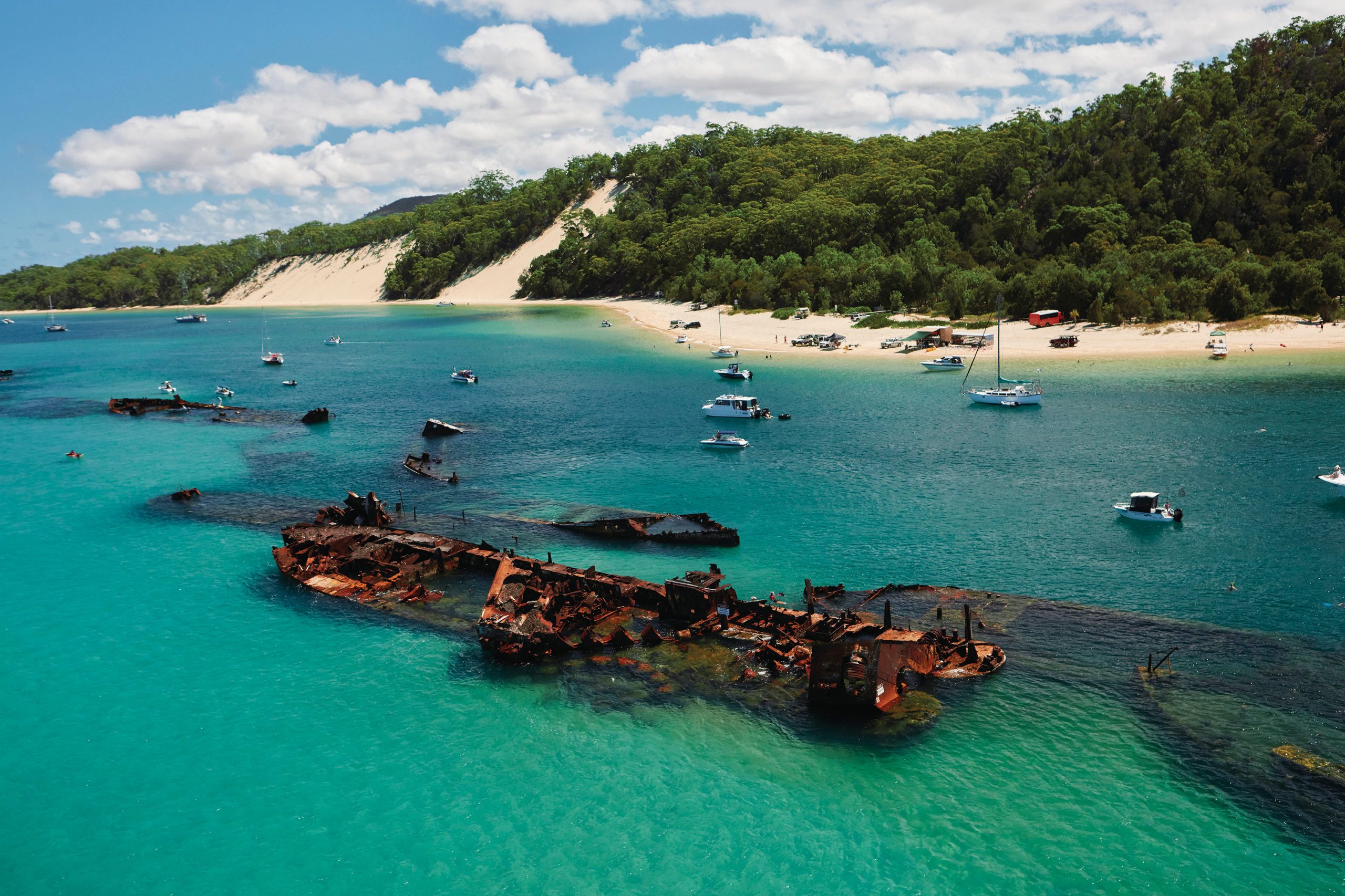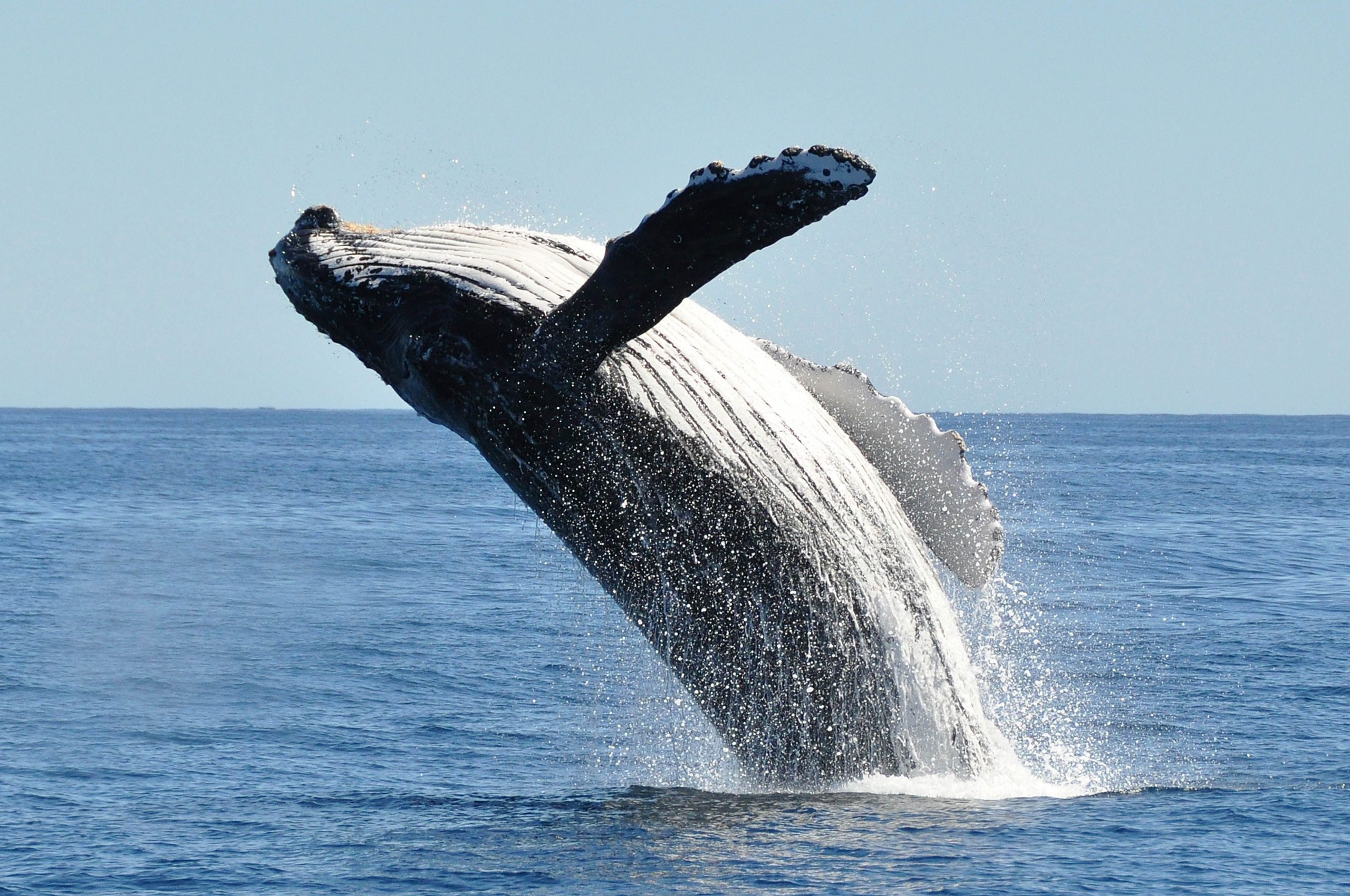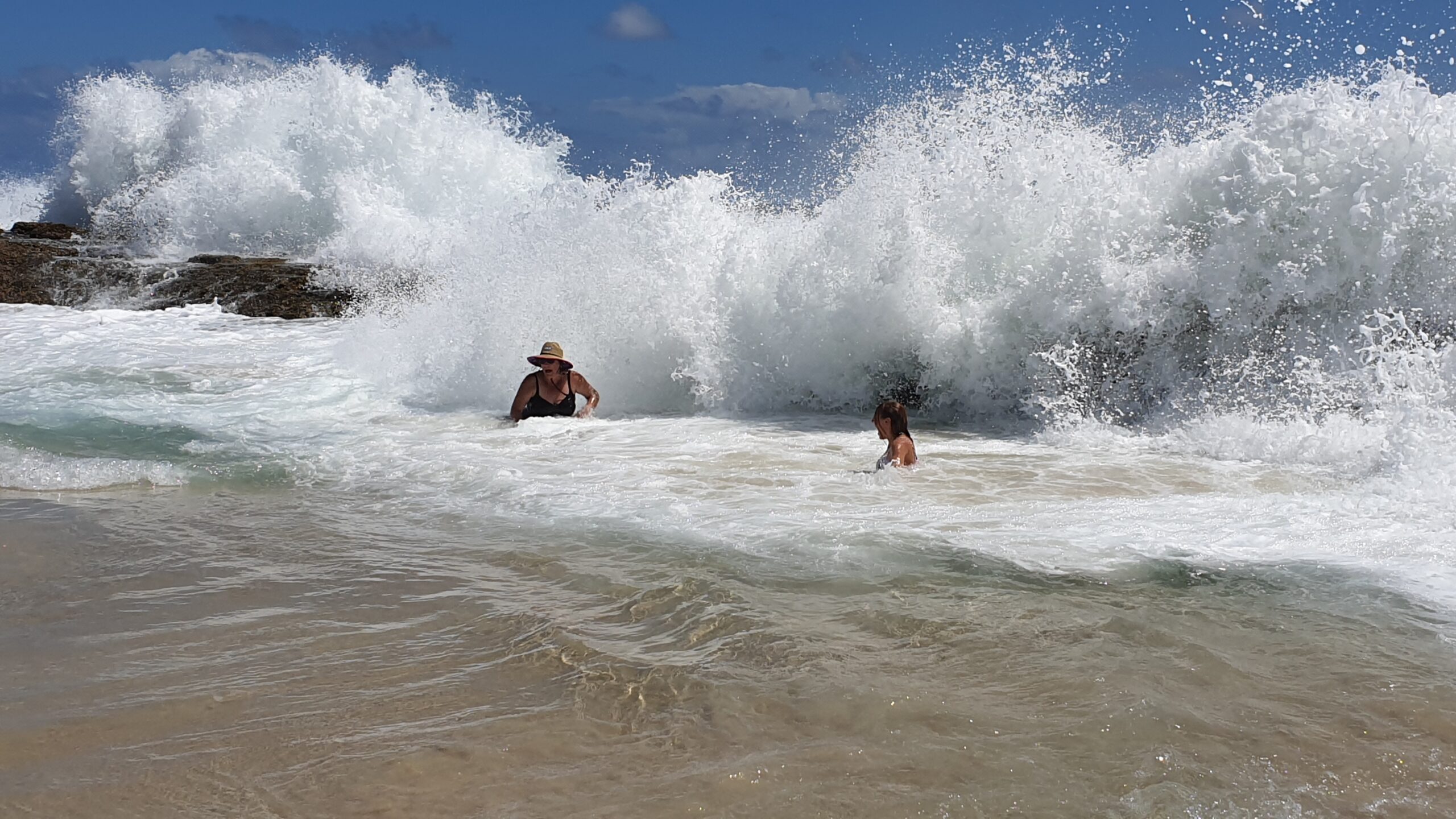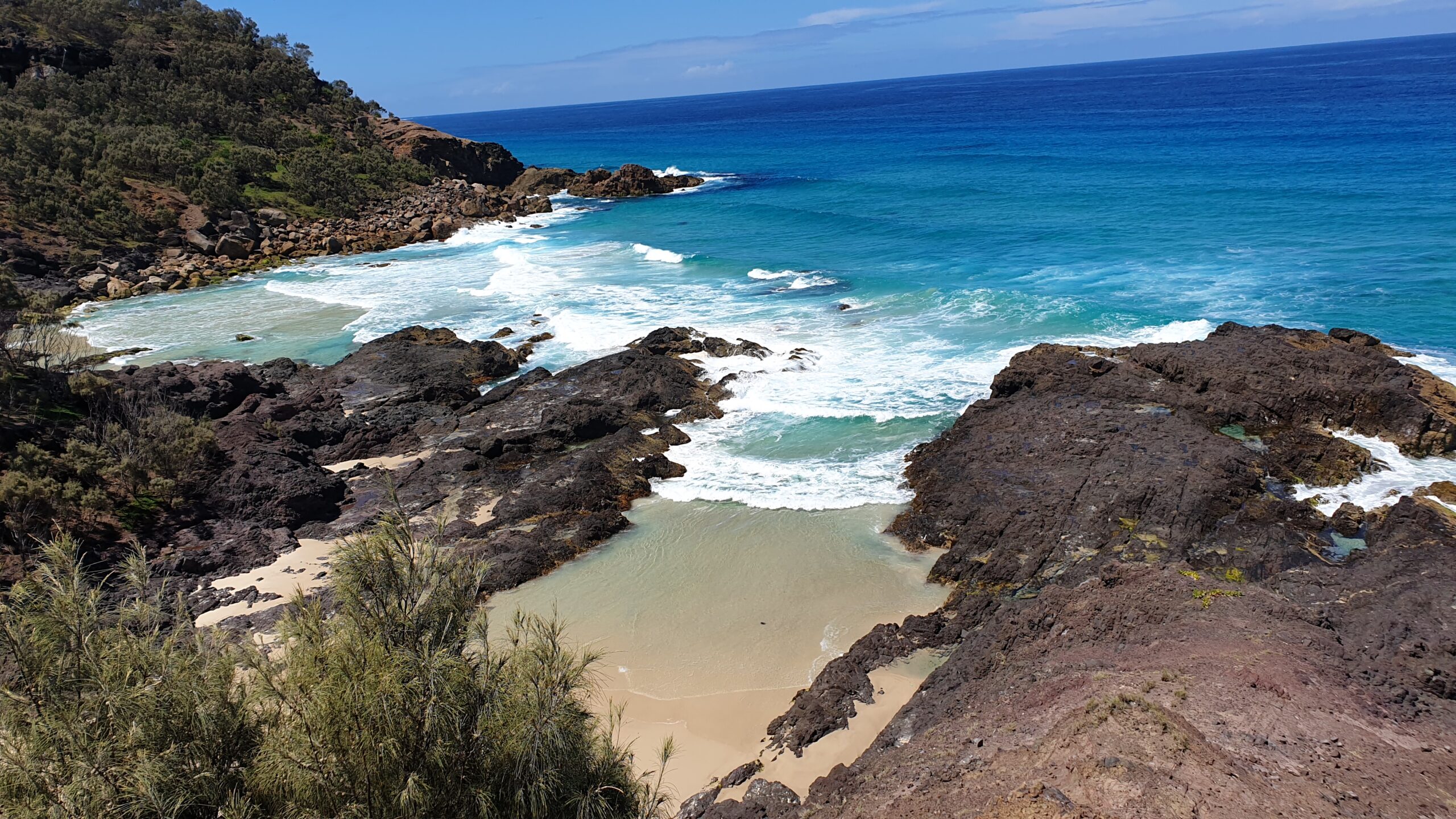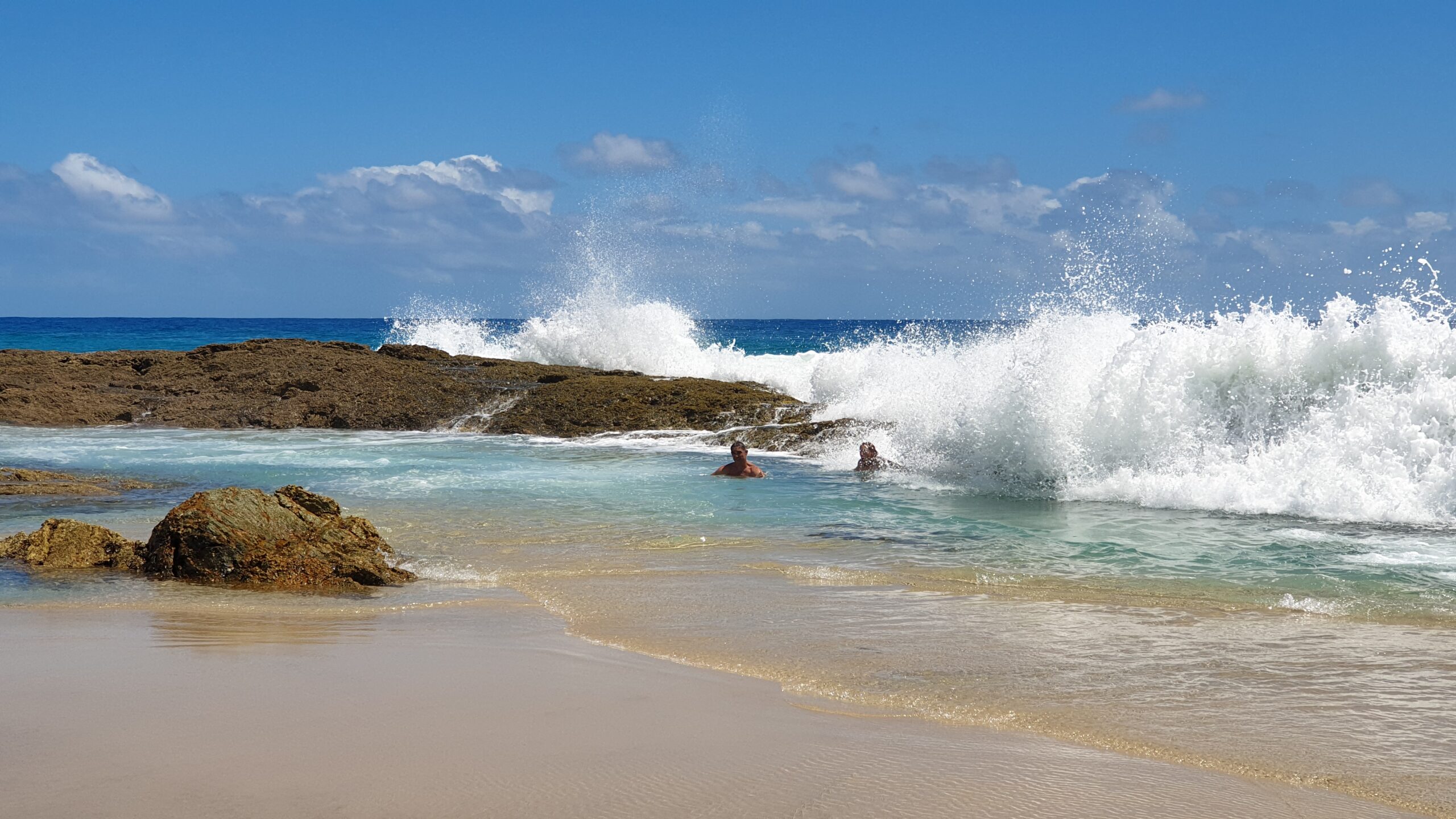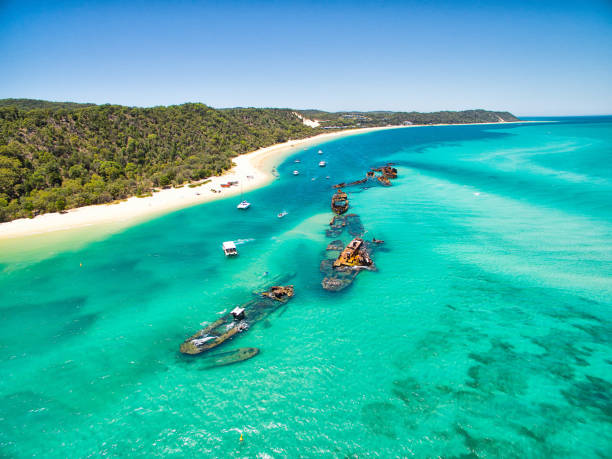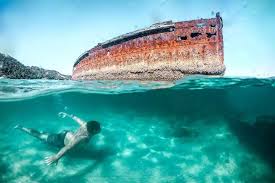 Sink a drink at The Gutter Bar
Grab a drink and feast on fresh seafood at the Gutter Bar on the southern end of Moreton Island, where local character and a laid-back tropical island vibe hold sway. Best way to access The Gutter Bar is crossing the island and travelling south via Ocean Beach, coming back via western beach. Make sure you check the tides or you may be stranded here for e few hours. You won't be the first!
Off the shore of Cape Moreton, Flinders Reef is a well-known scuba diving spot with excellent marine life diversity. It has more than 175 species of fish, turtles and migrating whales (June to November). At Aahrus Dive Site, North of Moreton Island, lies a 50m iron barque which sank in 1894 after a 122-day sail from New York, carrying a cargo of kerosene, glassware, wire bails and alarm clocks. Timber artefacts under the sand have been preserved from being drenched in kerosene. Only accessible with a permit, this is a site for advanced divers – but is worth the extra effort. Discover colourful pufferfish, sweetlips, wobbegongs, stingrays, lionfish, gropers and schools of cardinalfish waiting to greet you.
Catch a fish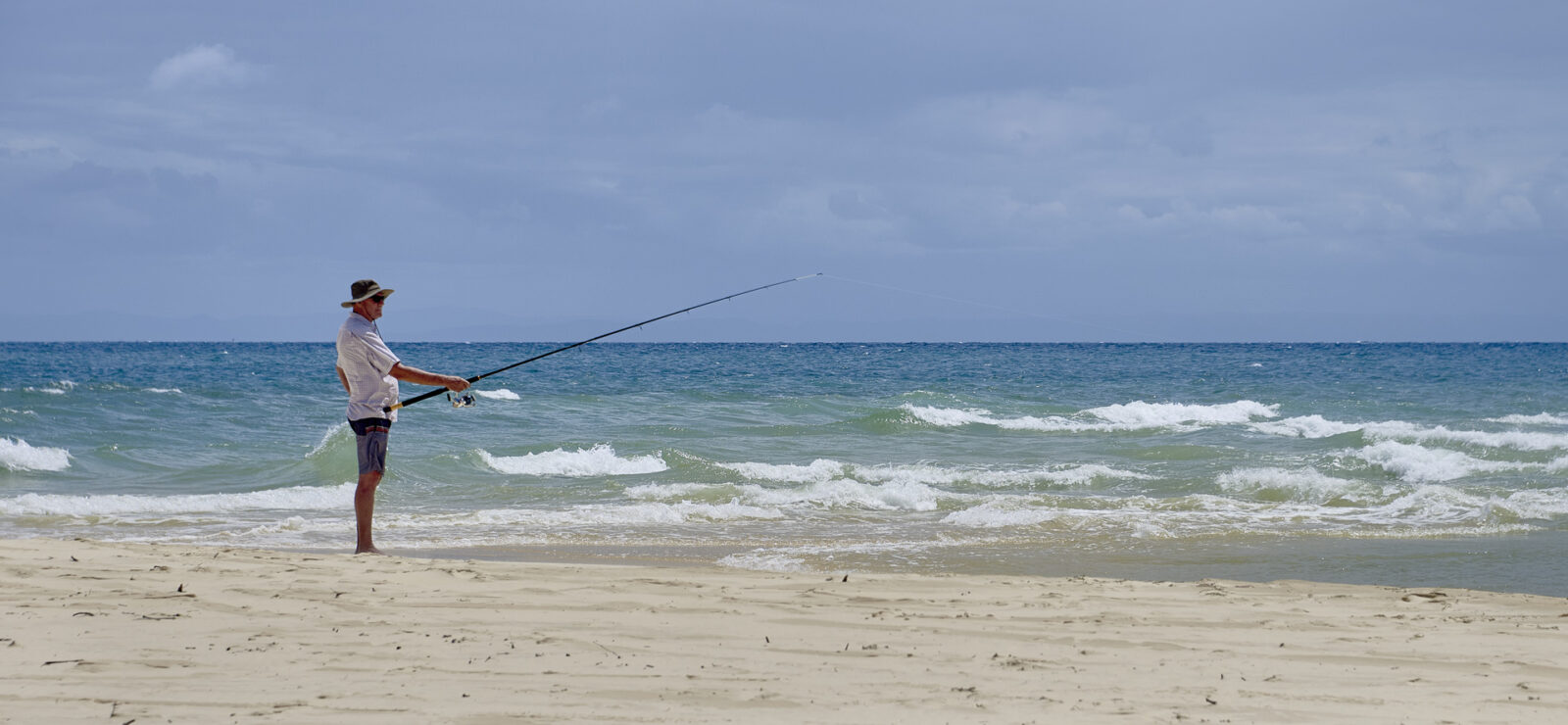 Moreton Island is a fisherman's paradise – whether beach, ocean or spear fishing. Try for whiting along the western beach, tailor along Ocean Beach and North Point and flathead in the gutters along Ocean Beach and in the tide eddies and submerged logs near Tangalooma Point and Comboyuro Point. Ocean fishing will net you snapper, king fish, tuna, mackerel and marlin. The area surrounding the island is Moreton Bay Marine Park so be aware that restrictions apply in some areas.
View historic grave sites
History buffs will appreciate viewing the historic graves of two children – one who died at sea in 1883, and another in 1895, both located less than 1km south of Bulwer. These are some of the oldest graves sites in Queensland.
Snorkel the Moreton Island Wrecks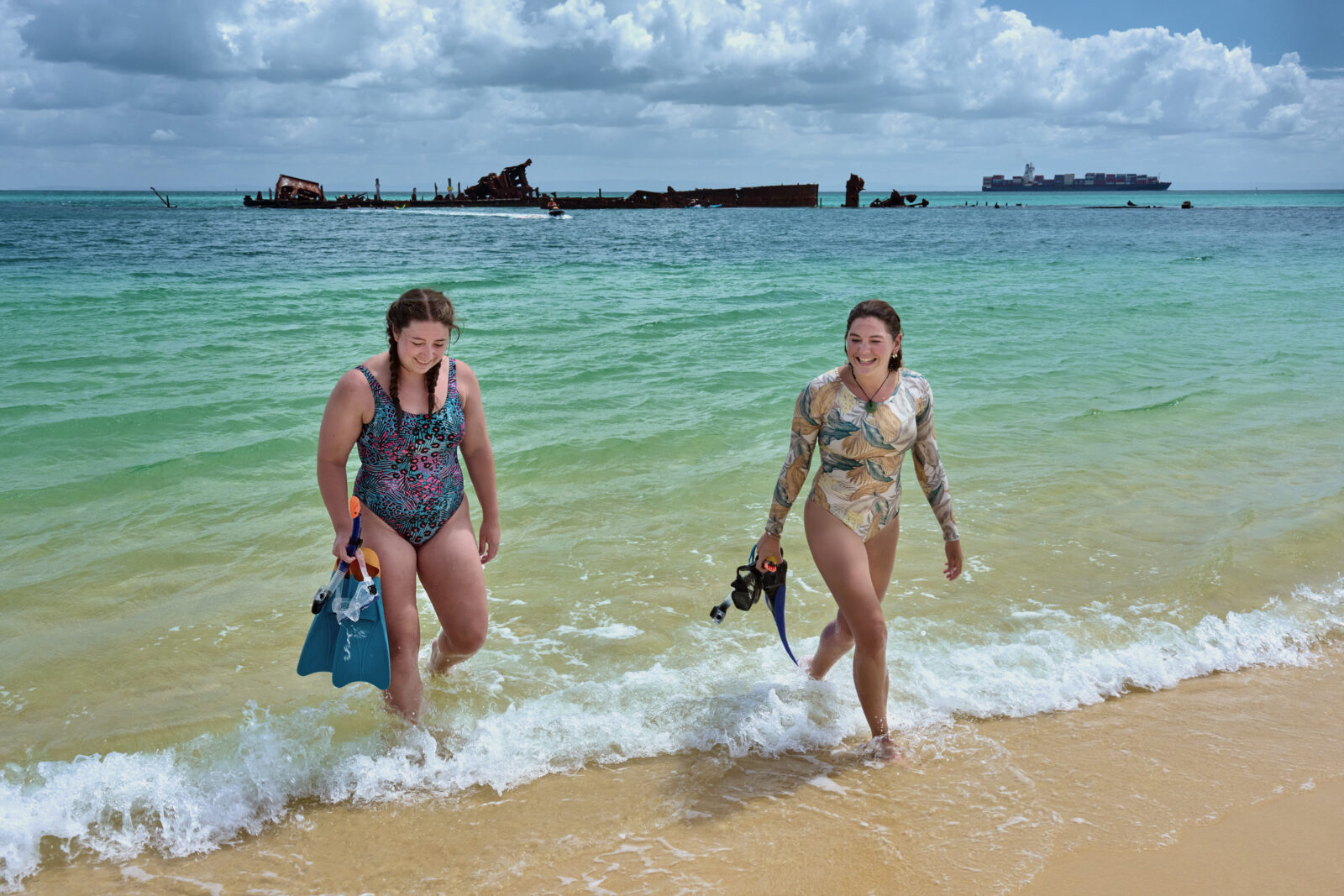 Three ships were deliberately sunk by Robert Alexander Gow in the 1930s to shelter his 12m boat. known as the Bulwer Wrecks, this makes a great snorkelling and sheltered swimming spot. Located directly on the beachfront in front of Bulwer township. , Another fifteen vessels were deliberately sunk in 1963 to create a breakwall for small boats stopping by the island. Fast forward more than 50 years and the rusty ships have become a great attraction for snorkellers with plenty of coral, tropical fish and, if you're lucky, turtles. Make sure to explore this underwater paradise.
Feed wild dolphins at sunset.
Each evening as the sun is about to set, like clockwork up to 10 wild bottlenose dolphins visit the jetty at Tangalooma Island Resort. Book this amazing experience with Tangalooma resort.
Cape Moreton Lighthouse
The island is home to the first lighthouse built in Queensland. Still standing at Cape Moreton, this red-striped sandstone beauty was made by tradesmen and convicts in 1857 on a rare rocky outcrop.
The Cape is worth a visit not to see the lighthouse but also as a great viewing point. Spot migrating whales, dolphins, manta rays, dugongs, turtles and sharks below. One of the buildings at the lighthouse has been turned into a Visitor Information Centre. It is filled with plenty of facts about the island and its history. You will find the lighthouse on the far north side of the island.